events and seminars
ARUK Oxford Drug Discovery Institute Seminar Series - Professor Patricia Salinas (UCL)
Wednesday 13 December 2017, 2pm
Basement Seminar Room, NDM Building, Oxford University, Headington OX3 7FZ
Professor Salinas' laboratory has been studying how neuronal networks are generated during development and the mechanisms involved in the complex pattern of axon guidance, dendritic arborization and synapse formation in the vertebrate nervous system. They are particularly interested in understanding the role and the mechanisms of action of Wnt proteins in the terminal remodelling of axons during the initial stages of synaptic contact and in the mechanisms by which Wnts proteins stimulate synaptic assembly. The lab has discovered that Wnt signalling modulates neuronal connectivity by regulating axon behaviour, dendrite morphogenesis and central synaptogenesis. Further work is aimed at elucidating how Wnt proteins regulate the axonal cytoskeleton in developing neurons to convert actively growing growth cones into synaptic boutons and how Wnts stimulate the assembly and maintenance of synapses. Other projects in the lab include the role of Wnt signalling in neurotransmitter release and circuit modulation in the adult brain.
ARUK Oxford Drug Discovery Institute Seminar Series - Professor Guy Brown (University of Cambridge)
19 January 2018, 11am
Basement Seminar Room, NDM Building, Oxford University, Headington OX3 7FZ
We are interested in the mechanisms of inflammatory neurodegeneration in the brain. We have been using cultures of neurons and glia to investigate how microglia become activated by inflammatory stimuli (such as cytokines, LPS, LTA, prions and beta-amyloid) and how such microglia damage neurons. We are particularly interested in nitric oxide, oxidants, glutamate, hypoxia, mitochondria, apoptosis, phagocytosis and interactions between neurons and glia. We have shown: how NO kills neurons, how the microglial NADPH oxidase regulates inflammation, how Ab and prions activate microglia, how hypoxia interacts with NO, how the proliferation of microglia and neuronal precursors is regulated by NO and oxidants, and how mitochondria contribute to neuronal death. We are also interested in the regulation of apoptosis and its interaction with phagocytosis. The mechanisms of phagocytosis in the brain, and their roles in brain pathologies are current preoccupations.
Brain Question Time Event,
Thursday 14th September, Henley Business School, University of Reading, 10:30-13:30
Reading University are hosting a Brain Question Time event open to the public to answer any question you might have on the brain. This might include how the brain works, what causes particular diseases and how we are using research to better understand the brain and work towards new therapies for brain disorders. A panel of experts have been assembled to answer your questions and we will also give some short introductory talks to tell you about brain research at the University of Reading. After the event there will be a buffet lunch to carry on informal discussions. So if you want to find out more about the brain or have your questions answered, sign-up to this free event by emailing a.bithell@reading.ac.uk or m.dallas@reading.ac.uk and come and join us!
Lecture Theatre G11
| | |
| --- | --- |
| 10:30 – 10:40 | Introduction - Dr Angela Bithell, Lecturer in Stem Cell Biology and Regenerative Medicine, University of Reading, School of Pharmacy |
| | Short talks on Brain Research at the University of Reading: |
| 10:40 – 10:50 | Dr Mark Dallas, Lecturer in Cellular and Molecular Neuroscience, University of Reading, School of Pharmacy (RSoP) |
| 10:50 – 11:00 | Dr Carien van Reekum, Lecturer in Psychology, University of Reading, School of Psychology and Clinical Languages (PSCL) |
| 11:00 – 11:10 | Prof. Ying Zheng, Professor in Systems Engineering and Neuroscience, University of Reading, School of Biological Sciences (SBS) |
| 11:10 – 12:30 | Panel Q&A Session - Chair: Dr Angela Bithell      |
| 12:30 – 13:30 | Buffet Lunch |
Brain Expert Panel Members:

Date: 6 September 2017
Venue: Henley Business School (Lecture Theatre G11), Whiteknights Campus, University of Reading, Reading, RG6 6AP
Time: 12:30pm – 6pm
Bringing together early career neurodegeneration researchers from different spheres to share experiences and research – Find out what it's really like to work in pharma and biotech, as well as careers away from the bench. Registration is free, and abstracts can be submitted for poster presentations, please see the website for details or download the flyer here.
Pint of Science Festival, 23rd May
The Pint of Science Festival brings some of the most brilliant scientists to your local pub to discuss their latest research and findings. 
This year, the ARUK is sponsoring a special Early Careers Network evening in Oxford to support members of the network to promote their work to the public. 
Oxford ARUK Network members Cecilia Lee and Jackie Robbins will be speaking at the Pint of Science on 23rd May at the SLUG AND LETTUCE, OXFORD, 1 Oxford Castle, New Road, Oxford, OX1 1AY.
MONDAY 23 MAY 2016, DOORS 6.30PM, EVENT 7-9PM
The brain is an amazing and wondrous organ - we will hear about what happens when it becomes damaged in Alzheimer's and Parkinson's diseases. Pint of Science pint glasses and t-shirts to be won! (Please note: ground floor event, easily accessible)
Speakers:
Cecilia Lee: CHANGING GENETIC INFORMATION TO FIGHT PARKINSON'S DISEASE. Cecilia Lee is a third year DPhil student at University of Oxford. Her research uses stem cells to investigate the role of Parkinson's disease-associated genes in the immune system.
Jackie Robbins: DETANGLING DEMENTIA: CAN STEM CELLS LIVE UP TO THE HYPE?
Jacqueline Robbins is a final year PhD student at King's College London and the University of Oxford. Her research uses brain cells made from stem cells to study Alzheimer's disease.
 Please support Cecilia and Jackie by booking tickets for this event - book here. 
Dementia Information Café at the John Radcliffe Hospital
Once a month on the last Tuesday 2.00pm - 3.30pm
onthree (restaurant), Level 3, John Radcliffe Hospital
Are you visiting a friend or relative with dementia in hospital, or caring for someone with the condition? Why not visit the Dementia Information Café for tea, biscuits and an informal chat about the support available?
The support organisations who will be present to help and advise are the Alzheimer's Society, Carers Oxfordshire, Oxfordshire Age UK and Guideposts Oxfordshire.
For more information about the Dementia Information Café please contact gaynor.parsons@ouh.nhs.uk
Past events and seminars
DEMENTIA AWARENESS PUBLIC OPEN DAY, OXFORD
The next Dementia Awareness Public Open Day will take place on Saturday 19th March 2016 to coincide with Brain Awareness Week. For more information, please see below or see our Open Day webpage here. 
alzheimer's research uk Research conference 2016
Oxford ARUK Network members are encouraged to attend the Alzheimer's Research UK Research Conference 2016, to be held at Manchester Town Hall on the 8th and 9th March 2016. 
Please note that a number of prizes will be awarded during the conference - more details can be found here.  
THE ART OF GRANT WRITING WORKSHOP
The Oxford ARUK Early Careers Network is hosting its first careers event called 'The Art of Grant Writing' on Friday 29th January, 2016 from 12:25 – 2 PM, including free pizza for lunch.
We all know the importance of finding your own funding to become an independent and successful researcher, but where do you start? How do you make your application stand apart in the competition? What aspects of your proposal should you highlight? Several successful Oxford ARUK grantees will serve on a panel to answer some of your burning questions and provide some inside tips into writing successful grants. All graduate students, postdocs, and those early in their career are welcome!
The Art of Grant Writing
Date: Friday Jan. 29, 2016
Time: 12:25 - 2 PM, free pizza lunch provided
Venue:
Sherrington Room,
Sherrington Building
Dept of Physiology, Anatomy and Genetics (DPAG),
Sherrington Rd.
Oxford OX1 3PT
PLEASE RSVP no later than TUES. Jan. 26th through this e-vite. 
GET STRATEGIC ABOUT YOUR RESEARCH CAREER
6 November, Charles Darwin House, London
We are pleased to announce that ARUK will be co-hosting an Academic Career Development Workshop jointly with the Society of Biology. The event on 6 November (9:30am - 4:30am), Charles Darwin House, London, will enable you to think about your long-term career development priorities and help you to develop the skills you need to increase your chances of success.

There are 20 spaces available at an Alzheimer's Research UK subsidised rate of £35 each (usually £260 for non-members of the Society of Biology). You don't have to be funded by Alzheimer's Research UK to attend, but you do have to be an Alzheimer's Research UK Research Network member to take advantage of this offer.

Is this course right for you?
Are you concerned that you could be doing more about your long-term career development?
Do you find it hard to think about what you need to do beyond completing your current post-doc?
Are you uncertain about what will increase your chances of having a successful career (beyond establishing a good publication record)?
Would you like some concrete ideas of actions you could take now to prepare you for future leadership roles?
You can read more about the course outline here. In addition to training provided by careers consultant Elaine Denniss, there will also be the opportunity to hear form Prof Lesley Jones, Prof of Neurogenetics at the University of Cardiff, who will take you through her career trajectory and tips for success.

Places are limited due to the nature of the training, so please register early to avoid disappointment. Priority will be given to researchers in post-doctoral positions. If you would like to attend, please email Emma O'Brien with your name, career stage and Network Centre by 30 September.

If you are unable to make the journey to London, but would be interested in attending such an event in future, please fill out this form, including your Network Centre. We will then look to plan an event at another Centre with a critical mass of interested researchers.
OXFORD ARUK "HALF AND HALF"
Friday 23rd October 2015 at St Aldate's Tavern, Oxford, from 4.30pm onwards. 
To kick off the academic year, the first ECN event will be the Oxford ARUK "Half and Half". This is primarily a networking social, however please bring your most burning science-careers questions to spark some discussions.
OXFORD CONFERENCE ON AGEING AND PSYCHIATRY
Monday 28th September 2015. Leonard Wolfson Auditorium, Wolfson College Oxford
This innovative one day conference for Medical Students, Foundation Doctors and Core Trainees in Psychiatry has been funded by Health Education England and will cover the context of ageing, clinical aspects of old age psychiatry and wider opportunities for doctors working in the field.
For more details, including how to register visit http://www.psych.ox.ac.uk/news/inaugural-oxford-conference-of-ageing-and-psychiatry
16th July: Oxford Dementia Research Day
The second Oxford Dementia Research Day will be held on Thursday, 16th July 2015 from 9:30am to 5pm at St John's College, Oxford.
This event is jointly organised by OxDARE and the ARUK Oxford Network; we hope you will join us for a stimulating day of research talks and posters. There will be plenty of time for networking and discussion, including an evening drinks reception.
Including talks from:
John Gallacher (Dementias Platform UK), John Davis (ARUK Oxford Drug Discovery Institute), Olaf Ansorge (Oxford Brain Bank), Angela Bithell (Reading School of Pharmacy), Patrick Esser (Sports & Health Sciences, Oxford Brookes) and Alastair Gray (Population Health)
Click here for more details including the full programme and how to register for this free event

Friday, 10 July 2015, 9.00am – 6.00pm
Venue: MRC Weatherall Institute of Molecular Medicine
Come and find out about ageing research in and around Oxford together with keynote talks by:
Gerald de Haan (University of Groningen)
Mick Milsom (Heidelberg, HI-STEM)
Peter Adams (Beatson, Glasgow)
Arne Akbar (UCL, London)

Open to all interested in ageing research.
Attendance is free. If you wish to attend please register by Friday, 2 July at:
http://oxagen.imm.ox.ac.uk/
30th May: Oxford Brookes Centre for Rehabilitation Open Day
As part of Oxford Brookes University's 150th anniversary, and as a way showing  appreciation to all participants, clinicians, researchers, members of the public and organisations that have supported their work, there will be a Centre for Rehabilitation Open Day supported by the ARUK Oxford network and everyone is welcome!
Over the past decade researchers from the Centre for Rehabilitation at Oxford Brookes University, have investigated a variety of topics related to rehabilitation and physical activity. Topics include measuring and understanding movement in those with movement difficulties, exercising benefits in people with neurological conditions, and developing new rehabilitation methods.
The Open Day activities will include:
"Have a go" on several sporting activities (in association with Oxford Sport Partnership)
Talks by members of the Centre's Movement Science Group about the results of their studies
Workshops on the insights and technology generated by the research
Various accessible activities based on some of our the research tools and experimental set-ups
For more information including how to book a place please visit: www.brookes.ac.uk/events
St Aldates Tavern, Oxford. Doors 7.30pm, Event 8pm
Listen to two fascinating talks showcasing fresh research in Alzheimer's disease given by experts in the field from the ARUK Oxford network, all with a pint in hand.

Dr Mark Dallas. Discovering dementia: Carbon monoxide – the dose makes the poison
The symptoms and effects of neurodegenerative diseases like Alzheimer's arise from the damage of cells known as neurons that facilitate normal brain function. We will explore how molecules like carbon monoxide, which are generated in the body, can be either toxic or protective to these cells.
Professor Clare Mackay. Discovering dementia: Imaging the ageing brain
By the time conditions such as Alzheimer's Disease and Parkinson's Disease are clinically diagnosed, much of the damage in the brain is already done. We will look at how imaging the brain can help us understand the risk for diseases like these, even before people begin suffering from the symptoms.
Wig and Pen, Oxford. Doors open 7 pm, Event 7.30-9.30pm
Did you know that we can turn back the clock and reprogram mature cells into other types of cells? Which can then be used to treat chronic diseases? No?
Then join us to find out more about one of the most extraordinary scientific discovery this century: induced pluripotent stem cells or iPS cells.
Professor Richard Wade-Martins. From stem cells to Parkinson's disease
Richard leads the Oxford Parkinson's Disease Centre and has a lab that studies the molecular mechanisms of a range of human neurodegenerative diseases with the ultimate aim of developing novel therapies. He is particularly interested in using stem cells to understand why the neurons of patients with Parkinson's disease die, so that that we can help them instead, to survive.

Dr Sally Cowley. Tailoring iPS cell research
Sally heads the James Martin Stem Cell Facility where they are experts in reprogramming patient cells to iPS cells to study human disease. They teach others how to perform this technically challenging feat and share resources so that researchers can do projects with iPS cells!

Professor Zameel Cader. The many facets of stem cell research
Despite billions of pounds being invested, the discovery of new drugs is slowing down. Stem cells are seen as a paradigm shift in this field and bring new hope. From his perspective as both a doctor and a researcher Zameel will explain why they hold such promise.
18th and 19th May: Dementia Friends Information Session
Come and learn a little more about dementia, and the small things everyone can do to help those people living with it.
This interactive information session is aimed at academic and support staff at the University of Oxford. The session will be facilitated by researcher Claire Sexton (Nuffield Department of Clinical Neurosciences), who is a Champion for the Alzheimer's Society 'Dementia Friends' campaign.
At the end of the session you will be asked to take the understanding you have gained and turn it into an action, by becoming a Dementia Friend. You will receive a Dementia Friend badge and information card.
Sessions run 12.30-1.30, Lecture Theatre 2, Academic Centre, John Radcliffe Hospital
Book tickets via http://www.ndcn.ox.ac.uk/events/dementia-friends-information-session
This event to be held in West Wing, John Radcliffe Hospital will run twice: once from 1-3pm and once from 4-6pm.  The sessions will include talks from researchers working in the brain bank followed by a tour of the Neuropathology Lab.
For more information, including how to book your FREE place click here.

Four short talks and stands to browse about brain research at the University of Oxford and Oxford University Hospitals NHS Trust.  The event to be held at the Mathematical Institute, Radcliffe Observatory Quarter, Oxford includes talks by 
Sarah Pendlebury - Cerebrovascular Disease & Dementia
Dr Claire Sexton - Exercise and Cognition
For more information and to book you FREE tickets click here.
Our next ARUK Oxford network open day on March 28th 2015 will be a free event about the research we are carrying out in ARUK Oxford.  This will be held at the John Radcliffe Hospital.
ARUK Oxford, Abingdon Science Partnership and Science Oxford are proud to present this screening of Age of Champions followed by a talk from ARUK Oxford member Dr Claire Sexton on the science behind active ageing.
Age of Champions is an inspirational award-winning US documentary following five competitors who sprint, leap, and swim for gold at the National Senior Olympics. For them, age is only a number!
The event will take place at The AMEY Theatre in Abingdon School on Tuesday 20th Jan. 
Tickets are FREE but booking is recommended via http://www.scienceoxford.com/live/whats-on-so/age-of-champions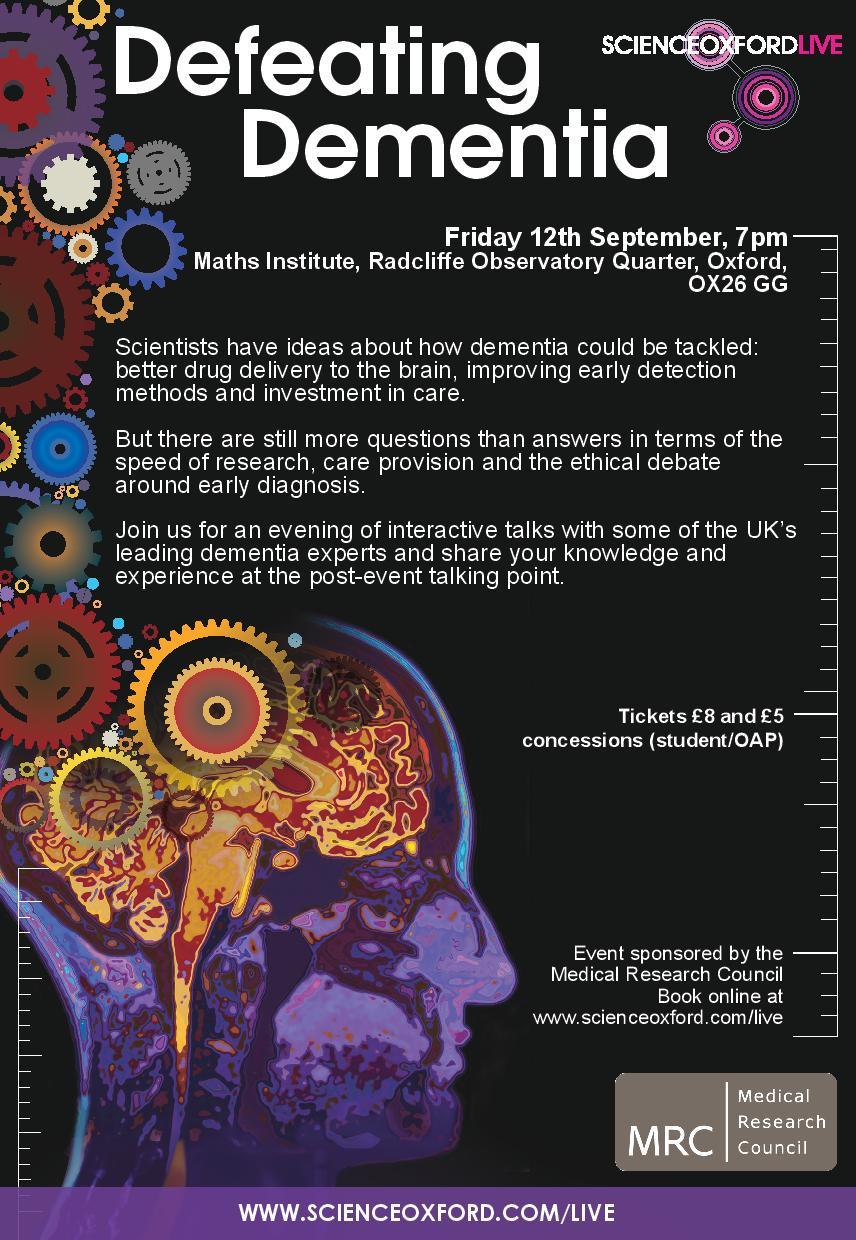 Join experts from the Medical Research Council and Oxford Dementia and Ageing Research (OxDARE) in an open and enlightening discussion on how we can defeat dementia: or at least manage it in light of new early detection methods.
Defeating Dementia will be hosted by writer and broadcaster Quentin Cooper and will feature talks from John Gallacher, Claire Sexton and Richard Wade-Martins.

 For more details or to book tickets for the event visit science oxford.
8 July 2013: Oxford Dementia Day
A joint event organised by Oxford ARUK Network Centre and OxDARE.
Topics include clinical conditions, cohorts and a wide range of translational neuroscience methods being used in dementia and ageing research in Oxford.
3 July 2012: Talk by Professor Clive Holmes
Professor Clive Holmes (Professor of Biological Psychiatry, University of Southampton) gave a talk entitled "Inflammation in Alzheimer's Disease: Clinical consequence and possible solutions" on Tuesday, 3rd July 2012 at the Academic Centre, John Radcliffe Hospital.
Age of Champions
18th and 19th May